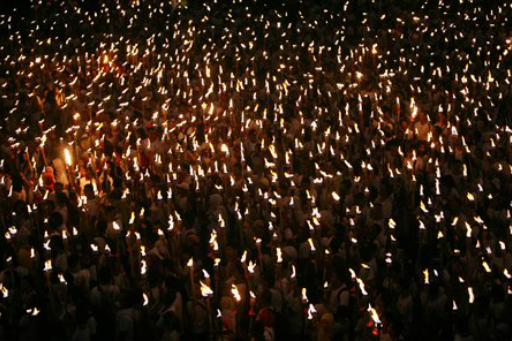 "There are, therefore, two kinds of knowledge in this world: an eternal and a temporal. The eternal springs directly from the light of the Holy Spirit, but the other directly from the Light of Nature."
C.G. Jung:
"This light [scintilla = sparks] is the lumen naturae which illuminates consciousness.."
"… lumen naturae is the light of the darkness ."
My teacher, Sakyong Mipham Rinpoche once said that ego was simply where prajna had lost its' connection to awareness.   What he meant by this was that innate wisdom and discernment becomes disconnected from what is happening right now- this very moment.  How simple.
Jung talks about the scintilla or little sparks of light that illuminate consciousness.  This has always been such a beautiful image to me.   I have been thinking a great deal about these "scintilla"- these sparks of light.
I am a big supporter of peeking into the darkness when it wants us to peek into it.  Spiritual paths are not a flight away from the darkness, although we can use them to achieve this end.  Because most spiritual paths offer some kind of promise of getting out the dark, this doesn't mean that we are completely home free… yet.  For as long as we have an ego we are confronted again and again with its' (ego) ignorance and fear.    Being afraid of the dark is natural.  We can't see anything at first.  Not seeing something can be extremely terrifying as well as disorienting.  But, what the ego doesn't know is that within this darkness lay the scintilla.  The light of Basic Goodness.
One of the things that I happen to love about Western Psychology is that it understands that we are all walking around a little bit in the dark day after day pretending that we know what we are doing.  The word for this if I am not mistaken is "unconsciousness."   I think that this is funny and I include myself in this image.   Buddhism would say that our prajna has lost its' connection to awareness.  Just saying this makes me want to wake up.
Western psychology might call awareness "consciousness."     But as I understand awareness, it is just seeing things as they are, experiencing things as they are without needing "consciousness."   Maybe "consciousness" gets in the way of pure perception.
What I do know is that we can't push the river.  When things are dark we naturally want to run over and turn on the light switch.  This forces us to do all kinds of rediculous things.  After all, where IS the light switch to turn on?   Is there a switch?  The switch is when prajna and awareness are no longer separated and we just see things as they are.
It is my experience that resting the mind and waiting (repeat: WAITING)  without running around like a lunatic wanting things to change allows this illumination to occur right on its own in its own way.
One of the strengths from an ongoing meditation practice is that we do not necessary have to believe that the "snake" in the corner in the room is actually a real snake that could kill us.  With this natural light of awareness we might just come to find that it is a silly old rope after all.  The only thing that was harmful and scaring us was our own mind and imagination.  Although pranja loosing its' connection to awareness sounds so simple,  we spend most of our waking and sleeping in a state of this separation.
We react to the "snake" in the corner, to the perceived "threat."  Throw in a large does of "habit" and we are sucked into the fantasy- the dream- the nightmare.
Discipline comes to mind.  To not react to the "snake",  to the perceived threat, to the "drama" takes tremendous discipline.  I will take this discipline.  The other way is just far to exhausting to me.  Exhausting and on a good day a little bit funny, on a bad day- a nightmare.
What kind of world could we live in if we all trusted this illumination to be innate?   If instead of reacting we ran to the cushion, paused and practiced?   Practice helps us to see things as they are- even if what is being "illuminated" is our own insanity.   After all, who else's insanity is it?  It is the whole super story that happens when our prajna is separated, yet again, from awareness.