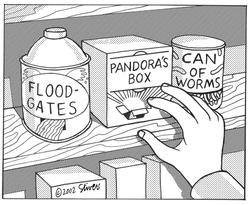 We as human beings are naturally a bit lazy. Given the opportunity, often without experiencing any pain, we would probably just stay the same as yesterday.
It is said in Buddhism that we will always experience pain, but that suffering is optional.
What this means is that as a human being, there is no escape from experiencing pain. There is the pain of pain itself (ouch, I stubbed my toe) the pain of change (why can't this ice cream cone or massage last forever) and the pain of dissatisfaction or all pervasive pain ( I finally got the ice cream that I ordered, BUT this ice cream wasn't as good as the ice cream that I had last week AND it is freezer burned).
We are funny in that we don't want to experience pain, but without experiencing pain we might not begin to investigate who or what is experiencing the pain. In other words, we might just stay the same.
Often pain can come in the form of consequences. We have an action and there is a reaction. Things are causal. I yell at you, you feel bad, I feel bad. Pain. IF I wanted to avoid exploring this pain I might just continue to yell at you- not paying any attention to my behavior, I might even decide to BLAME you for my pain. YOU are the CAUSE of my pain and that is why yelled at you. Fortunately, this doesn't seem to work. Now two people are in pain because of one action.
Looking at ourselves as the sources of our own pain and suffering seems so counter intuitive. After all, aren't OTHERS the source of my suffering?
We are often afraid to look at the source of our pain which is our own minds and habits. We are afraid that if we begin to poke and prod around inside that we are going to open up the flood gates of feelings, the angry can of worms OR the secret horrors of Pandora's Box. The honest truth is that when we do NOT look to ourselves as the source of our own suffering that we let loose even more pain and suffering in our environment.
It is empowering to take personal responsibility for our actions. We grow up by seeing that we create more suffering by our actions or lack thereof. Much of choosing to react or not take action are part of our own habitual patterns of our mind.
By looking inside of Pandora's Box we find an interesting surprise. At the bottom of the box after all of the hells that are let loose is the star of hope. We empower that star of hope when we take the time to look at some of our behaviors. Not looking only prolongs the obvious. We as humans are so funny in that often the biggest deceptions begin with ourselves. This big deception is pretending that we don't see what we have done to cause harm. We can change. We change by having the courage to look at what we have been avoiding. This looking isn't just hellish, it is illuminated by our courage. This is what it means to be brave.