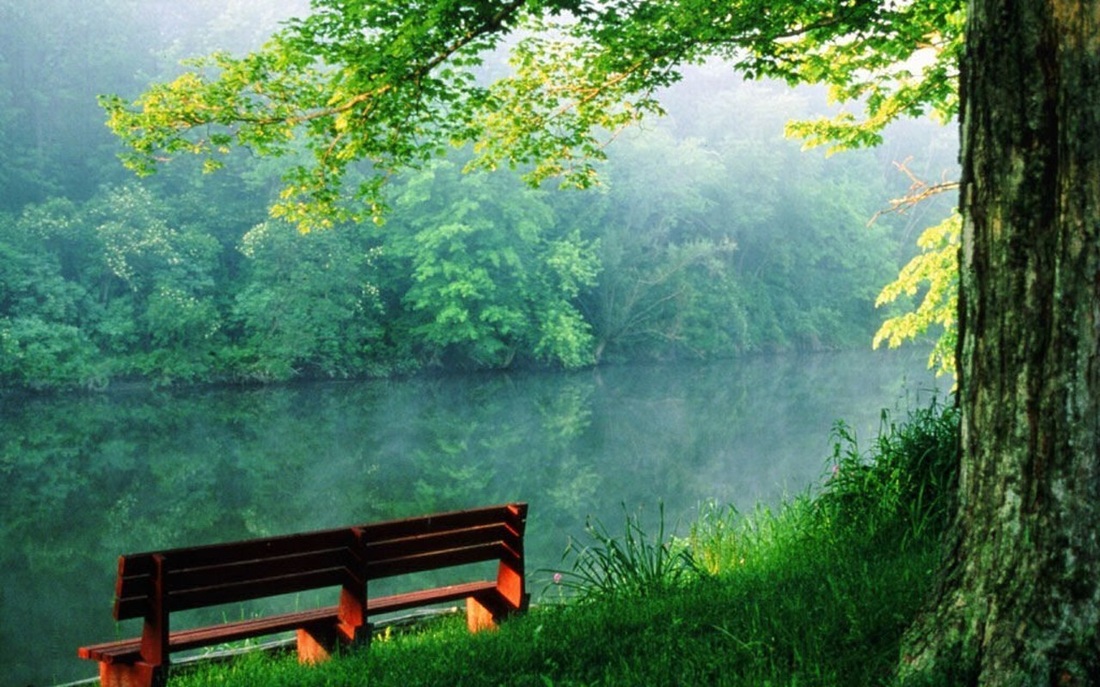 When I was a little girl, we used to spend all day playing outside.  We did not have play dates.  We did not play in each others homes.  We met with other children spontaneously and we just played outside.
The slow ramblings of  summer days created an environment where the world was literally our playground.
I often felt "held" by the environment- the trees, the sky, the weeds, the dirt, the water.  I felt safe.
Sometimes my brothers would find little baby birds or tiny little rabbits that has somehow been left all alone.  In their sensitivity and natural basic goodness, they wanted to help the orphan bird or bunny.  I can remember them gently picking up the little bunny or bird and carrying it home in their warm cupped hands close to their hearts.  They naturally wanted to help.
I can't remember who said it to us first, but some adult said, "You must be careful.  Even though you want to help, when you touch the baby bunny, the mother will not come back because the baby will have your smell on it's fur."
Oh no!  What have we done?!   I can remember the feeling of horror that the baby bunny might die because we were just trying to be helpful.  I can also remember the feeling of  "We must be scary for some reason if the mother bunny will not return to her baby if she smells us."  I wondered what was so wrong with us that rabbits would allow their baby to die if we had touched it.  It isn't that there was something wrong with us.  We just could not see the whole picture.
Our natural sensitivity to our environment is something that we are born with.  This sensitivity and inquisitiveness is a part of our Basic Goodness.  Children are naturals at expressing this as it has not been "educated" out of them yet.
That sensitivity wants to help.  This is beautiful.
For some of us, this desire to help can turn into forgetting about nurturing and taking care of ourselves.  When we focus on others to the extent that we may become sick ourselves, this is not doing a service to anyone.  This natural gift that we all have inside of us that longs to help can sometimes make situations much worse than if we had been able to detach and leave things alone.  Knowing when to care for others and when to let them be takes intelligence, compassion and courage.
It can be difficult to trust that nature actually knows what she is doing.
Sometimes our desire to help is more about our own discomfort than it is about the other person.   In this way, we may not be as "selfless" as we would like to think that we are.  Yes, the shadow here is that we are actually selfish,  guilty, manipulating and controlling.   Our desire to help may not even actually even be about the other person after all.  It might even be about our own fears of losing control.  If we focus on trying to control what seems to be out of our control it creates the illusion of having control that we never had in the first place.
Often times when someone we love is suffering from addiction or some other kind of compulsive and/or destructive behavior we naturally want to rush in like my brothers with the tiny bunny and be heroic with what we perceive to be a fragile person.   We want to help.   My brothers and I did not think that maybe the mother bunny would come back shortly to retrieve this little rabbit and that our touching it now made things worse.  Now the bunny might actually die because we were so busy trying to "save" it.
There is a fine line between being identified as a "compassionate person" and a "busy body."   Most of my patients as well as my meditation students need a bigger dose of "please put on your own oxygen mask first."   If you come from a traumatic background- this can be very difficult.
It can be very hard to leave someone to suffer the consequences of their own behavior.  Sometimes it is difficult to see that the most compassionate thing that we can do is to allow someone else the dignity of their own struggles.
Nature knows what it is doing.  It knows what it is doing within us and within others.  We do best to keep the focus on our own lives and what is most manageable within our own day.  Feeling heroic or needing to save the bunny can be, oddly enough, a way for us to avoid our own lives.  As someone close to me said recently about her own life, "It is scarey to say THIS is the life that I want to live- and then GO AND GET IT."   In this sense it is easier to focus on what others are or are not doing.  It lets us off of the hook of creating the life that we so want and deserve.  Even if that life is one of service.  Self care is not a bad word.  Selfishness is this sense often means creating necessary boundaries in order to allow the space for everyone to live and thrive just as nature can do if we would only just leave it alone and stop trying to impose our constant demands upon it.   What is might this heroic shadow then actually be called?  Hubrs.