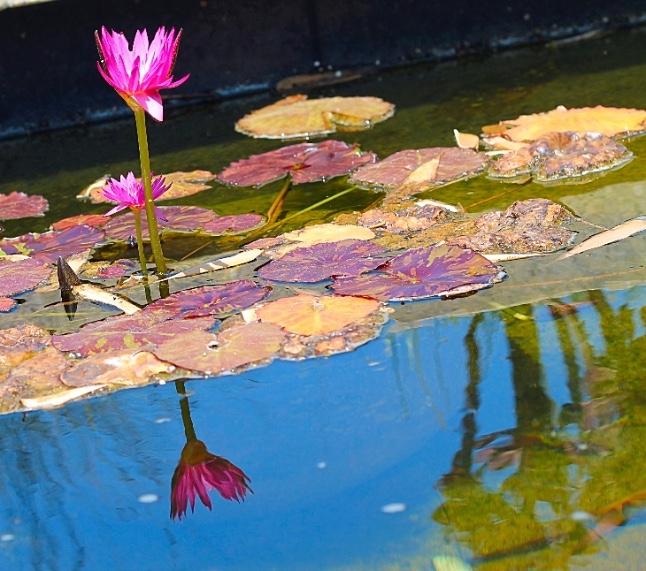 (photo by Katharine Bainbridge)
It would be very difficult to not know what is going on politically unless you have been living under a rock.
I bring up politics because for the first time we have a reality television star running for President of the United States. We also have the very first women candidate nominated by a major party who could be President of the United States.
The media is fast paced, maddening and confusing at times. We are constantly tossed between hope and fear. Not only do we have the election happening, but also, other issues that continue to push their way into the collective consciousness: the continuing ecological crisis, Black Lives Matter, terrorism, the Zika virus, the refugee crisis and more.
These are not uneventful times. These are very, very potent times.  And, speaking for myself, these times can be quite overwhelming especially to the Highly Sensitive among us.
Trying to maintain mental/physical/spiritual balance, self care and courage is a daily practice for me. I do mean daily. Limiting how much time I spend on social media has been very important.
I have chosen to read more this summer. One of the books that I am currently reading is The Age of Reason by Thomas Paine. While written back in 1794-1795, Thomas Jefferson encouraged Paine not to publish his work fearing the possible reprisal and retaliation against him. So it was finally published in 1802.
I encourage you to read it. In the most simplistic terms, Paine is a critical thinker challenging religion. You could say, "Don't always believe what you read, even if it is the Bible itself."
One reason I am rereading this book is that I feel that critical thinking has largely gone by the wayside this election year in particular. It is as if we have lost our minds. When we are frightened, we look outside of ourselves for some kind of authority to tell us what to do.  When we are frightened, we can be highly reactive instead of aware and insightful.
From a Shamanic point of view, this relinquishing of our personal understanding and power to an outside authority is very dangerous. To subjugate one's own autonomy and authority to someone outside leaves you very vulnerable.  When we subjugate our autonomy we forfeit our own experience. Experience is necessary for growth.  What is the best way forward in life for YOU?
I am currently offering a new service in my practice.  It is Shamanic Counseling.   Shamanic Counseling is very different from psychotherapy. Shamanic Counseling is a method of experience a direct revelation or insight into a problem.
It is a spiritual method that follows the ancient principles of shamanism. It has as its goal "life-enlightenment." It is a problem solving system for discovering one's own spiritual power and the wisdom to deal successfully with daily life.
The Counseling takes place over a series of 5 weeks where the client is trained in this method themselves and has the opportunity to overcome inhibitory fears and gain self confidence while acquiring heart-felt wisdom.
This work is vastly different in its method from Analysis as well as the Energy Healing work that I do.
This work helps heal and restore personal autonomy. It is a way of experience direct revelation for oneself. What could be more empowering?
This method may be good for you for the following reasons:
Do you have some important questions about your life that feel unanswered and you continue to look outside of yourself for answers?
Do you wish to feel empowered or regain some important autonomy that at some point you may have given away to someone else?
Have you been diagnosed with a terminal illness and wish to understand more about your own illness as well as the death and dying process?  Or have you had an ongoing illness that you would like to understand better?
Do you wish to feel connected to a Universe that is much greater than you are but don't know how to access that kind of power?
Are you wanting deeper insight into an issue in your life that confuses you?
Do the current events in the world have you distressed and you wonder how you might actually be a part of helping or healing it in a very practical way?
This method provides the opportunity to to realize one's own personal spiritual power: and the discovery of one's ability to obtain extraordinary, very practical, spiritual wisdom and answers to important personal questions.
In these distressing times, it is important for all of us to remain balanced, centered and as Shamans say "filled with spiritual power."
Katharine
Copyright © 2017  Katharine Bainbridge MFT, All rights reserved.
SaveSave