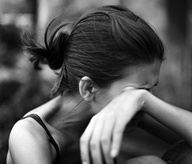 I read a recent article about a woman who looked at her tears from a microscope.  I felt so moved and astonished that our tears configure, geometrically, to the state of mind that we are in when we are crying.
Tears of grief look different under the microscope than do tears of elation or tears of relief.
This is also my experience in the office.  Tears are never "just" tears- they are profound expressions of release and they contain information for us.   I often ask my patients, "If your tears could speak?  WHAT would they say?"
Just as our Western world only has one word for love, we only have one word for tears.  Clearly, from this experiment under the microscope, tears are letting us know that they DO in fact speak.  They speak a different kind of pattern, creatively they seem to being saying, "I am never the same as yesterday's tears… I am BEAUTIFUL in my expression!  LOOK!  LISTEN!  I am part of a divine design of things."
Many of us grew up in an environment, as well as a larger culture, that doesn't seem to have much room for tears.  Tears are nothing to be ashamed of.  Tears often are the communication that we have MUCH before we have a language to explain what we are feeling.  This is a kind of wisdom to me.
Trust your tears.  Every time, every single drop, has a unique language all of it's own.
Cut and paste the link below to read this article and view the amazing images of tears.
http://www.lifebuzz.com/tears/#!NTFoA