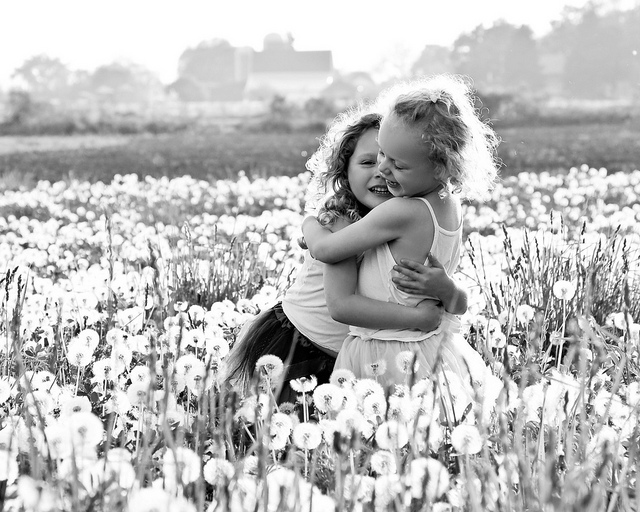 For various reasons many women have learned to not trust other women.  Sometimes this fear comes from a negative mother experience or a negative sister experience.  Sometimes it comes from early experiences where women have felt betrayed by another woman or friend.
I can remember being in the first day of school in the second grade.  There was a new girl in class who was wearing a pink and white 1950's poodle skirt.  Since it was 1975, this skirt was really unique. I wondered if her Mom was so cool that she let her wear a Halloween costume on the first day of school.  I liked her energy.  Her name was Lucy.
Lucy was slightly overweight,  had a great big smile, wire rimmed glasses and funny cropped blonde hair.   I had to be her friend.
When we were to line up to go to the cafeteria for lunch, I spontaneously grabbed her hand and said, "Can I be your friend?"
We giggled.  She smelled like mothballs.  I could not take my eyes off of that white poodle on her skirt.
As we walked down the hallway together holding hands I felt a rush of possibility, like a sailboat that had caught the wind.  It felt good, even at 7 years old, to have a brand new friend.
I don't know what happened to Lucy.  After the first week in school her desk sat empty in the back of the room.  Everyday I craned my neck back to see if somehow she magically appeared again.  I missed her.
I can only imagine, now as an adult, what had happened to her.  Did her alcoholic family have to move one more time?  Did her father gain custody over her or her mother during the divorce and she had to attend another school?
Was she secretly sick and have to be taken out of school?  Or worse…
As women, when we are little girls we are happy to grab the hand of someone new and say, "Will you be my friend?"  As children, we have nothing to hide.  We are happy to open up and play with someone who makes us smile.  We share secrets and stories and hopes.   Somehow as women age, we find that our most vulnerable selves might be unwanted in a friendship.  It takes courage to be vulnerable.
I often tell my patients that sharing true vulnerability, not "drama", is what creates genuine relationships with others.
Vulnerability = Genuine Relationships
It takes courage to risk deep honesty with another woman.
It is a treasure to be able to enter into the world of a friend and hold a space for listening deeply.
Deep friendships between women is an empowerment.  It breaks isolation and the need that most women have today to "pull to together" and "do it alone."
I have personally found that opening up to new friendships in a deep and vulnerable way has only enriched my life.
Into my 40's I have made friends with other women with whom I can trust and just be open with.
I find that deep and trusting friendships with other women create a kind of backbone in my life.  We validate each others dreams, move into offering an angle or insight that wasn't possible alone.
Often depression and anxiety in women can be linked to a fundamental feeling of disconnect.
To risk vulnerability can be the opening that women need to begin to heal… to step out of depression and anxiety and find the strength and support that they simply cannot do alone.
We are not meant to be alone.
Risk some vulnerability today.  Reach out your hand and say, "Will you be my friend?"
Even if that person is in your life only briefly, like Lucy was for me, you may find yourself surprised how important the connection is for you in your life.  Risk asking for help.  Amazing places might just begin to open for you.