When I entered into Menopause, my world flipped absolutely upside down seemingly overnight.
Initially I said to myself, "I can handle this. Hot flashes are nothing other than a kind of purification." BAH! Hot flashes are HORRIBLE!
I often thought about women who decide, ahead of time, the way that they want the birth of their child to be. Most, not all, of those women soon find out that the baby and birth have a mind of its own. The birth itself, as well as this child, will be what it it will be. This experience of 'it will be what it will be' is true with menopause as well. Menopause has a life and mind of its own.
Once my symptoms began to be emotional, spiritual as well as physical, I had to understand that I could not control this incredible force of nature. I had to surrender. I was giving birth to an absolutely unknown part of myself as a woman.  Menopause, like birth and death, is an initiation. 
There was a very serious turning point for me when I began to feel as if my mind was like the computer Hal in 2001 A Space Odyssey. At the end of the movie, the astronaut, Dave, in order to save the ship from further disaster began to unplug Hal.
I did not recognize myself. I could not move quickly. I experienced the sharp mind that I once had begin to dissolve into mush.
I could not remember words, in fact, I couldn't even string a full sentence together. I had to result to the "the name game" with my husband. Our conversations begin to feel like the gameshow The $20,000 Pyramid.
Then came the tears. I would burst into tears for no reason. Everything made me cry.
So, essentially, I was sweating, crying and unable to string a sentence along. Fortunately, for me, hormone replacement therapy was a solution. But, HRT was not going to take care of the entire story for me.
I'm not sure why, but I was shocked when my Naturopath explained to me that women, up until the 1950's, were put into mental institutions for menopause.
She also told me something very interesting. She said, "Women who are in corporate America, have the most difficult time with menopause." She explained that the compulsion to achieve is in complete contrast with the inevitable changes that occur in menopause.
For those of you who are not in this phase of life, let me be first to tell you that you life will change.
It is not only physical changes that occur. It is an ENTIRE life change. Dr. Christian Northrup is one of the only truth tellers who say that your brain is changing during menopause. Mood swings are literally your brain rewiring itself for a new reality.
You might be asking yourself, "Why is she talking about menopause when we are in a world wide pandemic?"
Why? Because I see the outer world mirroring what I have been experiencing in this enormous change happening in my own body.
And yes, this change is absolutely permanent. There is no going back.
Menopause is a time of deep reflection. Women often ask themselves, "What is really important to me? Have I nurtured myself enough? What are my priorities? What needs to change in me as earlier traumas beg for healing and forgiveness? Who and what do I want to love most? What am I willing to sacrifice? How do I move forward? This feels catastrophic."
In the beginning, these changes are shocking. We ask ourselves, "Am I experiencing a hot flash? Is that what this is?" "How long is this really going to last?" Many women experience insomnia. Often women have the feeling of a panic attack right before a hot flash presents itself. Women experience adrenal fatigue and our metabolism, like our economy, suddenly grinds to a complete halt. There is a brand new normal. It takes some time to accept this. As all former and familiar reference points of being a woman begin to disappear one by one, a brand new and more solid sense of authenticity begins to emerge. Wisdom takes precedent over worrying too much about what others think.
There is no doubt that women understand death. We understand concrete death and we understand the necessity of the death of identity to move into another phase of life. Women becoming mothers must grieve no longer being a maiden. Mothers must grieve when their children leave home, often during the menopause phase. Although women will always carry within them being a maiden, a mother and a crone- these life transitions are experienced concretely in the body.
In menopause there is literally a PAUSE occurring. A deeply spiritual pause.
Collectively, I feel, we are in the midst of a similar and very permanent change.
How we respond to this change is what is most important.
What does this change mean moving forward? How do we accept it?
In 2010 I worked with one of the Thirteen Indigenous Grandmothers in Nepal. Those meetings were both powerful, educational and life changing. Working with Aama Bambo fundamentally altered the way that I work with the psyche.
As my own thoughts and feelings begin to emerge around this worldwide crisis I will share more on my blog. For now, what the Grandmother's are saying mirror my own thoughts. It also mirrors what my experience has been in menopause. There is a feminine wisdom stepping into to literally make us all STOP.
As you are forced to slow down, stop and sit with yourself and loved ones, accept what is occurring. Accept that there is no going back. We are, as a globe, forever changed.
I have thought a lot about my own Polish grandmother, Stella, during this time. I thought about how she made homemade bread with her own hands. I thought about how she showed her love through her cooking. I thought about how much she loved to listen to music. I thought about her sharing coffee with me in tiny little coffee cups. Food, conversation and laughter could always be found in her home. I thought about how she had neighbors stop by just to say, "hello." That was a very different time. Primarily, it was a very different time because it felt as if there was more time…
Message from the Council of The Thirteen Indigenous Grandmothers:
As you move through these changing times…. be easy on yourself and easy on one another. You are at the beginning of something new.  You are learning a new way of being.  

You will find that you are working less in the old yang (masculine) modes that you are used to.

You will stop working so hard at getting from point A to point B the way you have in the past, but instead, will spend more time experiencing yourself whole and your place in it.

Instead of traveling to a goal out there, you will voyage deeper into yourself.  Your mother's grandmother knew how to do this.  Your ancestors long ago knew how to do this.  They knew the power of the feminine principle…. and because you carry their DNA within your body, this wisdom and its way of being is within you.  

Call on it.  Call it up.  Invite your ancestors in as the yang based habits and decaying Institutions on our planet begin to crumble, look up- a breeze is stirring.  Feel the sun on your wings.  Remember who we are.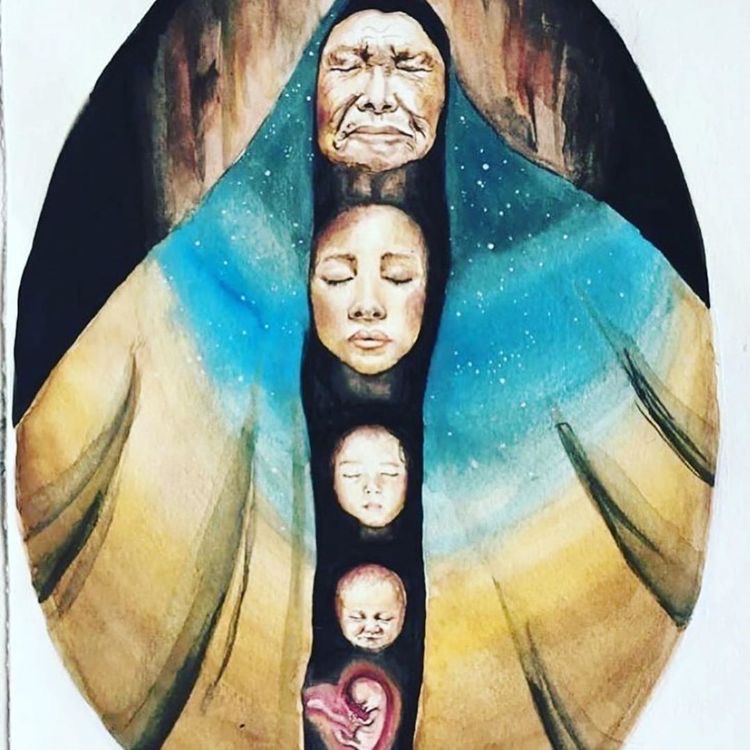 Be safe and take care of each other.
Copyright © 2020  Katharine Bainbridge MFT, All rights reserved.